It's been nearly a month, I have been spending my evenings at SproutBox Gurgaon, while I spend my time here – learning the skills required to run an organisation and building my startup – I will be blogging about what I see and do here, and one of the incidents that come to mind is about leadership. As a part of my training, the leadership team at SproutBox got me involved in running the Season 3 of Meet The Mentor Series, a series of talks in an Ask Me Anything format with some of the most amazing Mentors. My learning in putting all this together was a great experience, and we were geared to start with our First talk, and then something happened!
A leader is "a person who influences a group of people towards the achievement of a goal." A human who can drive growth and make things happen. Leadership though is more complex than it appears. Especially when the leader has to choose between organizational goals and welfare.
Friday 5:05 PM – The Evening of 25th August 2017
"Everything has been sorted, we just need to check the final guest list on Facebook and make sure that they feel comfortable when they are here. We must make sure that they feel at ease. Let's make this a success."
"Everything has been sorted, we just need to check the final guest list on Facebook and make sure that they feel comfortable when they are here. We must make sure that they feel at ease. Let's make this a success." Mr. Sapra (one of the co-founders of SproutBox) checked and rechecked the preparations, he wanted to make sure this was a successful event – where people not only gained more knowledge but were able to interact with other startup founders, learn and put these learnings to use.  He had an eerie calm about himself, yet I could see his mind was running in several directions ensuring everything was set right.
On the other hand, Mr. Sandeep Aurora,  our Speaker for this Event, was looking forward to meeting a curious bunch of people. He was happy that all his knowledge gathered over the last 2 decades would come handy to these startups and business owners, who could use this to scale up their companies.
The event aimed to attract a lot of curious heads. From young students to seasoned businessmen. It was to be held at SproutBox Suryavilas (Delhi) – tomorrow between 4 PM to 6 PM. An interactive session where people would interact with Mr. Aurora, on marketing ideas and leadership. The stage was set. But no one was aware of what was to come.
Friday 6:30 PM
There was news everywhere, not to step out of your houses, especially if you were going to travel across the border of any city, whether it was Noida to Delhi or Gurgaon to Delhi – Facebook feeds, WhatsApp messages, tweets, and even parents calling each other – that this was a weekend meant to be at home. There was news
"Violence at Panchkula and Sirsa"
There was a panic amongst people and suddenly we all got a message from the Security Officers at the Gurgaon CoWorking Space, and the Delhi CoWorking Space – Main Gates were shut so that no one could enter. If we were expecting a guest, we were told to inform them not to come and or inform the security staff on who was expected. People were told not to panic, but ensure they reach home safely
Saturday 7:30 AM – The Morning of 26th August 2017
"Security forces use drones for surveillance of over 2.5 lakh Dera followers gather in Panchkula"
"Sirsa, Chandigarh, Panchkula converted into fortresses as thousands of paramilitary, police personnel deployed"
"Death toll rises to 30, curfew in many cities of Haryana and Punjab"
The News Papers and Social Media was still buzzing – suddenly, everything seemed dicey. Even though Gurgaon & Delhi are miles away from where things were going on – Mr. Sapra's phone was ringing since early in the morning, me and my team members at SproutBox were confused – we were being told by our parents not to step out – but we knew, we had to run an event, there was money spent to organise and plan today's event, Mr. Aurora (the mentor for the day) had given us time from his calendar, there were people who were aligned to come – yes we could send them an email and make calls – but what about people who just show up, guests, friends and what about Mr. Aurora.
I was on chat with Mr. Sapra, and I could sense it was not an easy call for him to take – but he had to take a call.
"Leaders are people who do the right thing; managers are people who do things right" – Professor Warren G. Bennis
It was the first in the series of events, what do you do – do you cancel it – do you run it, by 8 AM I had been on phone with Mr. Sapra, and we were all given directions – the first "Stay Safe" and let's keep everyone safe, and out of harms way. While we all knew, the violence may never reach Delhi or the National Capital Region – We had to take a call, and the Call was – Call off the Event!
I was in shock, I did not know how he was able to stay level headed and take a call, by 08:30 AM he had reached out to Mr. Aurora on the phone and discussed on how to proceed. I remember the commitment I was told when we planned the event – even if One Person turns up for the Event, we still run it – and now we were confused. Now we were being told he had reached out to Mr. Aurora, they both discussed and said in the betterment of the people and the risk attached – they should postpone the event. Mr. Aurora was kind enough, to immediately slot in the Next Weekend (2nd September) in his Calendar
08:45 AM
Facebook Event is updated, and Mr. Sapra drafts an email. He is a man on his toes – and he shoots out the email using the Customer Relationship Management (CRM) software at SproutBox. He says he has to take leadership and inform. He starts making a few phone calls to guests and gets us on board, and then I saw something I have never seen someone do before.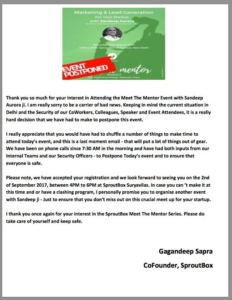 A Sticker was generated, and put up at the Gates – The Security Team informed that if someone was to come for the Event – please offer them Tea, Coffee, Snacks and request them that we had to cancel the event. Take their phone numbers and email id's down so we could personally send an apology and invite them again. I never thought this is something I would see.
Being a part of this amazing team, made me realize, that leadership is not just about ensuring growth to an organization. It's about being wise. Understanding the situation and acting accordingly. It's about being compassionate. He knew he would disappoint a lot of people, but he also knew that he had kept those people out of harm's way.
"I never thought of being a leader, I thought very simply of helping people" – John Hume
I have learned, that at SproutBox it's just not about business or monetary growth. The Aim clearly is to awaken the leader we all have in ourselves, by providing us with the right environment, the warmth of a box, nurture our ideas. Just like the Sun helps Sprout a plant in nature. If you are someone who is looking at building a startup or want to experience what great coworking is about, I invite you to come and try out SproutBox – They are happy giving out a day Pass, ask for it here.